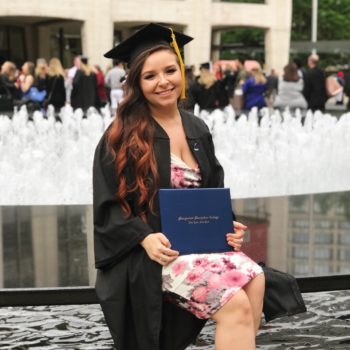 Just a friendly GenZ kid who loves science, animals, make-up, TV, theater & all things NYC- in search of a social media gig.
Resume
Lauren Herndon
Current Address: Provided upon request.
Education                                                                                                                                           
2014-2018       Bachelor of Science – Biology
Marymount Manhattan College, Manhattan, New York
Minor: chemistry
2013-2014       Bachelor of Science – Biomedical Science
Bond University, Robina, Queensland, Australia
2009-2013       High School Diploma
 The Vivian Webb School, Claremont, California
California boarding school
Work Experience                                                                                                                                
2018                Co-author of  "365 Things to Do in NYC"
2018-present    Note taker
Preparing notes for the Director of Access and Disability Services
Proficient in Microsoft Word, Excel, and Powerpoint
2017-2018       Nanny
Basic childcare such as picking up from school, helping with homework, light cooking and cleaning
2016-2017       Student research assistant
Student researcher in molecular and cellular biology (1.5 years)
Proficient in basic lab skills and instrumentation (incubation, centrifugation, etc.), animal cell culture, solution chemistry
Developed strong mentorship and time management skills
2012-2014       Sailing coach
Bahia Corinthian Yacht Club
Child care, curriculum preparation, first aid and CPR trained
Additional Skills and Societies                                                                                                            
2017-2018       Treasurer and Vice President of the Pre-med club at Marymount Manhattan College
Budgeting, administrative responsibilities
2016-present    Active member of the American Society of Biochemistry and Molecular Biology
2008-present    Experience with all social media platforms including Instagram, Twitter, Facebook, HootSuite, Pinterest, and WordPress blog sites
References                                                                                                                                          
Dr. Ann Aguanno, Biology professor at Marymount Manhattan College.
Email: Aaguanno@mmm.edu
Dr. Alessandra Leri, Chemistry professor at Marymount Manhattan college
Email: Aleri@mmm.edu